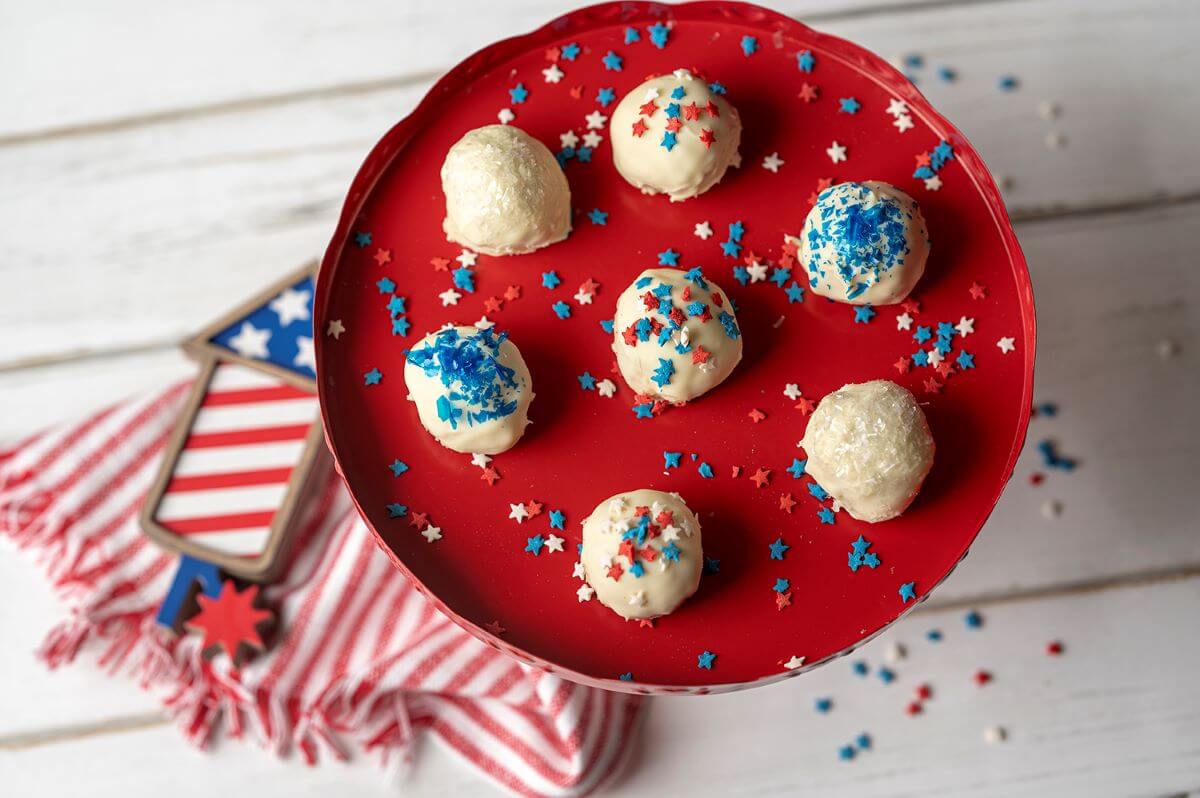 Star-Spangled Cookie Truffles
Get ready to celebrate the stars and stripes in the most delicious way possible…with a Fourth of July-themed treat that is guaranteed to ignite your taste buds. Star-Spangled Cookie Truffles are a delightful twist on the classic White Chocolate Macadamia Nut cookie. Each cookie is transformed into bite-sized truffles and topped with white chocolate and red, white, and blue sprinkles to create a festive explosion of colors and flavors. With a creamy, melt-in-your-mouth texture and a hint of tropical flavor, these Star-Spangled Cookie Truffles will be a crowd-pleaser at any patriotic gathering.
Servings: 16 Star-Spangled Cookie Truffles
Preheat the oven to 325°F. Break and place cookie dough cubes 2" apart on a greased baking sheet.
Bake 13-17 minutes or until golden brown. Remove from cookie sheet and transfer to cooling racks. Let cool completely.
In a food processor, process the cookies until they reach a sand-like consistency.
In a large mixing bowl, combine the processed cookie crumbs, softened cream cheese, and vanilla extract. Mix until well combined and the mixture forms a cookie dough-like consistency.
Use a small cookie scoop to portion out the truffle mixture and roll each scoop into small balls. Place the balls on a baking sheet lined with parchment paper. Freeze them for about 20 minutes or until they become firm and chilled.
While waiting for the cookie balls to chill, combine the coconut oil and white chocolate pieces in a microwave-safe bowl. Heat in 30-second intervals, stirring in between each one, until the chocolate is fully melted and smooth.
Dip each chilled truffle into the melted white chocolate, making sure to evenly coat each one. Place the truffles back on the baking sheet.
Immediately decorate with patriotic sprinkles. It's important to add your sprinkles before the white chocolate sets or they won't stick.
Once all the truffles are coated and decorated, place the baking sheet back in the freezer for an additional 10 minutes to allow the white chocolate to completely harden.
Remove truffles from freezer and let them warm to room temperature before serving. Enjoy the irresistible flavors of Star-Spangled Cookie Truffles at your next 4th of July barbeque, Memorial Day picnic, or Veteran's Day service.
Place the Star-Spangled Cookie Truffles in an airtight container and store in the refrigerator for up to 5 days.