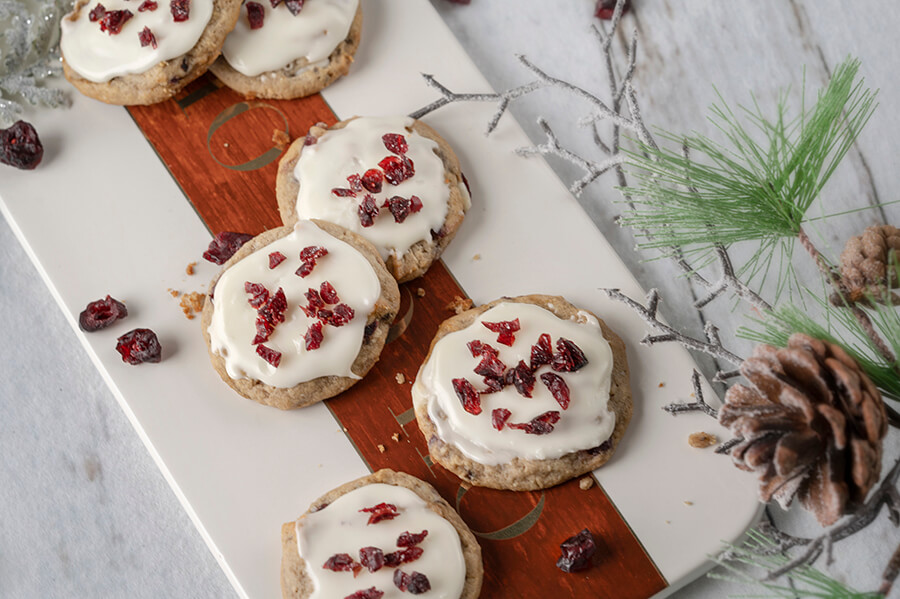 Frosted Oatmeal Cranberry Cookies
'Tis the season for cookies! Sharing Christmas cookies is a favorite holiday tradition for many. That's because cookies bring the perfect amount of holiday cheer to any event, from a white elephant gift exchange to the annual office party. This year, you can make your cookie tray really pop by adding these Frosted Oatmeal Cranberry Cookies to the mix.
Soft and chewy, this oatmeal cookie combines sweet, white chocolate drops with tart, dried cranberries. Top with a simple, orange-flavored icing and more dried cranberries for a classic treat that is loaded with festive, holiday flavor. It's a simple recipe that you'll want to keep baking long after Christmas is over.
Servings: 40 Frosted Oatmeal Cranberry Cookies
Preheat the oven to 325°F. Break and place cookie dough cubes 2" apart on a greased baking sheet.
Bake 13-17 minutes or until golden brown. Remove from cookie sheets and transfer to cooling racks. Let cool completely.
While the cookies are cooling, place dried cranberries into a small bowl. Sprinkle sugar over them until coated. Set aside.
In a mixing bowl, add powdered sugar, vanilla, and orange juice. Mix until smooth. If icing is too thick, thin it out by adding more orange juice.
Spread the icing over the cooled cookies. Finally, sprinkle on the sugared cranberries.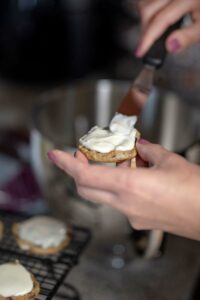 Once the icing has dried, store cookies in an airtight container. Put them in a single layer to avoid squishing the icing or add parchment paper between multiple layers.