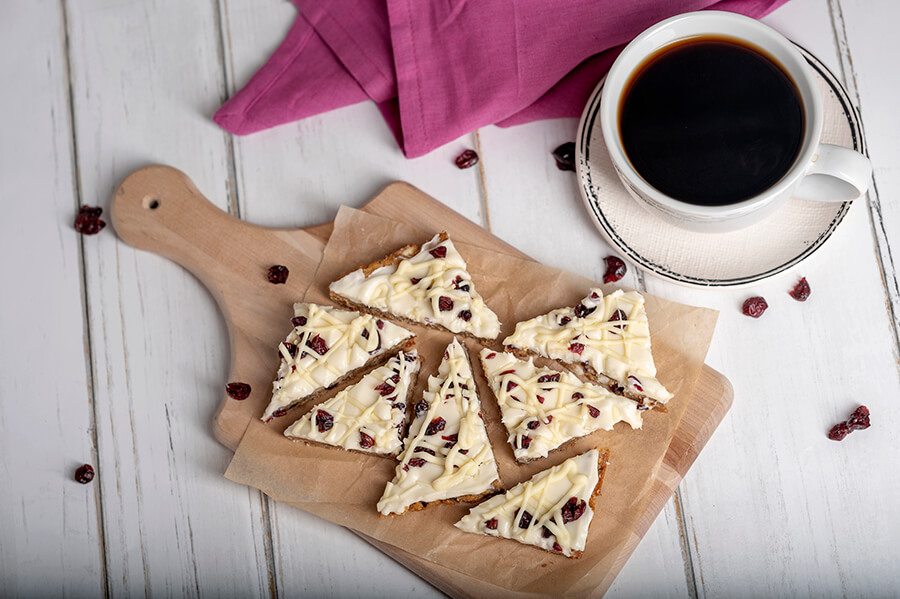 Looking for a delightfully indulgent treat that's perfect for any occasion? These Cranberry Bliss Bars are just what you need. Cranberry Bliss Bars bring together the goodness of Oatmeal Cranberry White Chunk cookie dough, the richness of cream cheese frosting, and the tanginess of Craisins to create a harmonious blend of flavors and textures. Top with a drizzle of white chocolate for an irresistible dessert that brings with it a little bliss in every bite.
Servings: approx. 24 Cranberry Bliss Bars
Preheat your oven to 335°F. Spray a 13 x 9-inch jelly roll pan or rimmed cookie sheet.
Thaw the cookie dough brick until pliable. We recommend putting it in the fridge overnight, or you can cut the brick in half and let thaw at room temperature for a few hours.
If you didn't cut the cookie dough brick in half during step 2, do so now. The remaining half can go back in your freezer. Then, press the cookie dough into an even layer in the prepared pan. Bake for about 20 minutes, or until the edges are golden brown. Allow the bars to cool completely in the pan.
In a mixing bowl, beat the softened cream cheese and powdered sugar together using an electric mixer. Beat until smooth and creamy.
Add the orange extract and vanilla extract to the cream cheese mixture and mix until fully combined.
Once the bars are completely cooled, spread the cream cheese frosting evenly over the top.
Finish off the bars by sprinkling on the chopped Craisins and drizzling the melted white chocolate over the bars.
Cut into triangles before serving at your next holiday meal, weekend gathering, or brunch.
After the Cranberry Bliss Bars are sliced, place them in an airtight container and store in the refrigerator for up to 5 days.