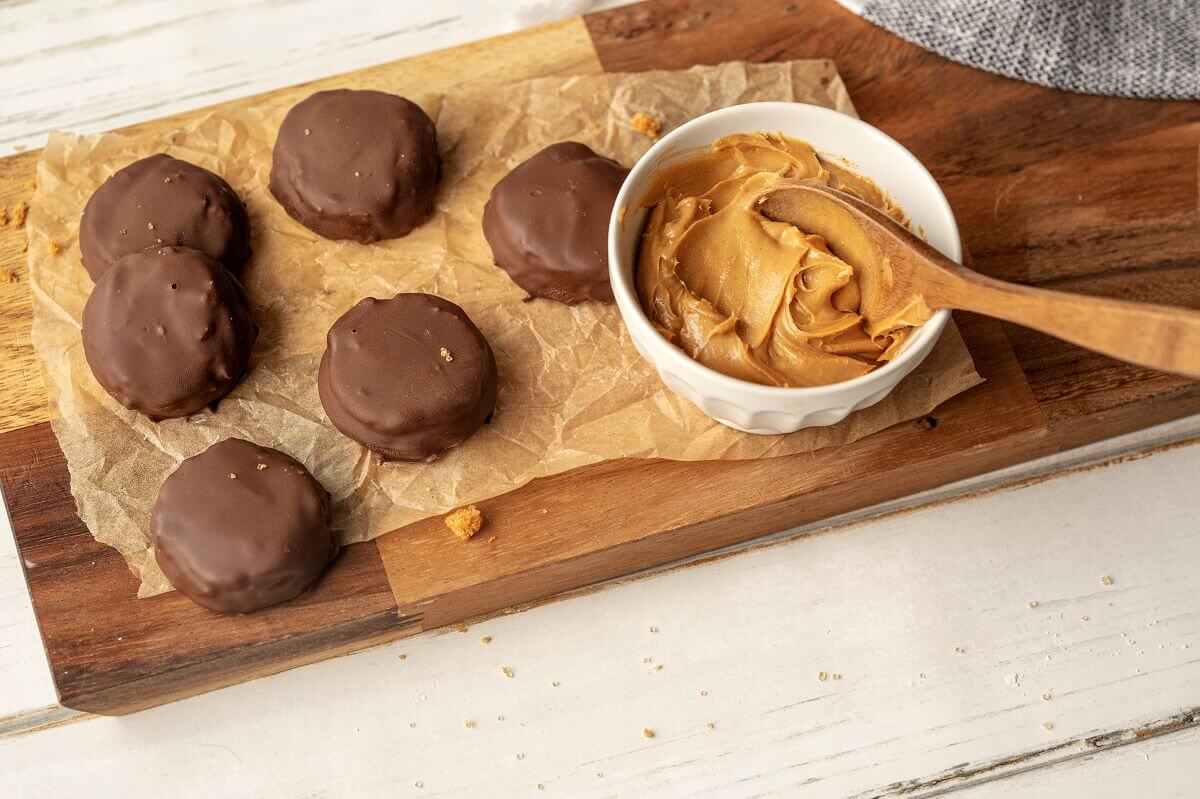 If you're a fan of all things nutty and sweet, this is the recipe for you. Peanut Butter Patties are bursting with peanut butter and chocolate goodness. These cookies are not only incredibly easy to make, but they're also a delicious treat that's perfect for any occasion.
Traditional patties are made with wafers or crackers. However, we decided to put our own twist on the recipe by replacing the wafers with one of our sweet peanut butter cookies. The chewy texture of the cookie perfectly complements the creamy texture of the peanut butter filling and chocolate coating while also adding an extra dose of sweetness to balance out all the strong, rich flavors. That beautiful balance of flavors is why Peanut Butter Patties are always guaranteed to satisfy all your cravings. Now, grab a glass of milk and get ready to enjoy!
Servings: 40 Peanut Butter Patties
Preheat the oven to 325° F.
Thaw cookie dough until it is pliable. Take 2-3 rows of cookie dough cubes (at a time) and work them into a ball. Put the dough balls on a sheet of lightly floured parchment paper. Use a rolling pin to flatten the dough until it is about 1/4-inch thick.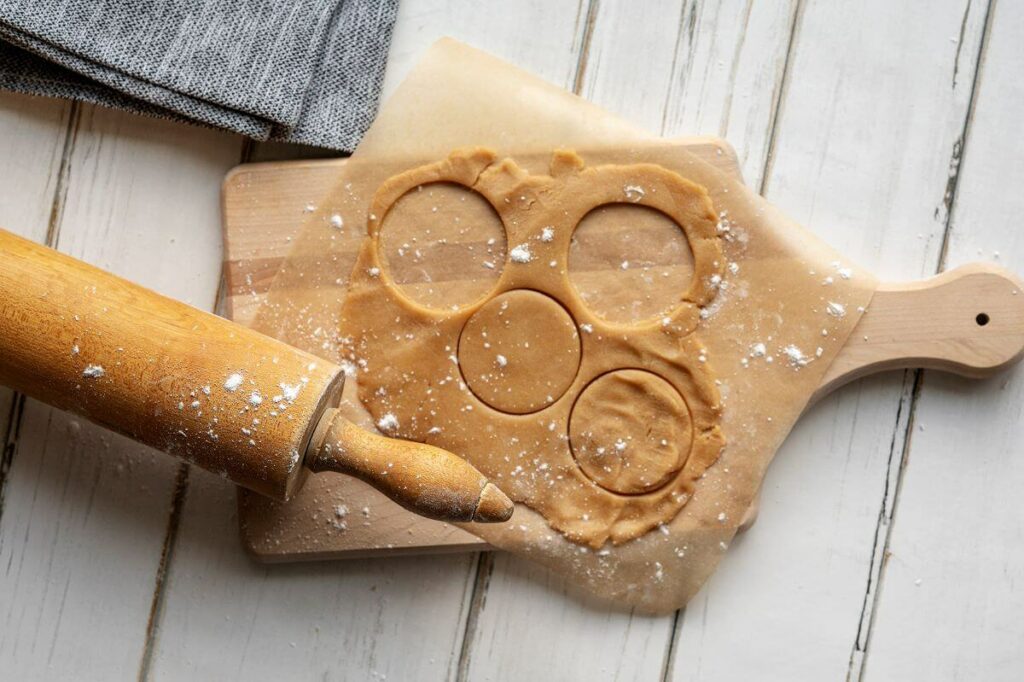 Using a 2-inch circle cookie cutter, cut out circles of dough and place them on a parchment-lined baking sheet.
Bake for 8-10 minutes or until the edges become lightly golden. Remove the cookies from the tray and place on a cooling rack until completely cooled.
While the cookies are cooling, combine the peanut butter and maple syrup in a small bowl. Mix well and set aside.
Once the cookies are cool, place a heaping 1/2 tsp. of peanut butter mixture in the center of each circle. Shake and tap the cookie to spread the peanut butter evenly. Place cookies in the freezer to allow the peanut butter to firm up. About 10 minutes.
While the cookies are in the freezer, place the chocolate chips and coconut oil in a small, microwave-safe bowl. Heat in the microwave for 30-second increments until fully melted. Stir after each interval. Set it aside.
Once the peanut butter is firm, remove the cookies from the freezer and place them on a cooling rack. Place the cooling rack over a parchment-lined baking sheet. This will catch any chocolate drippings.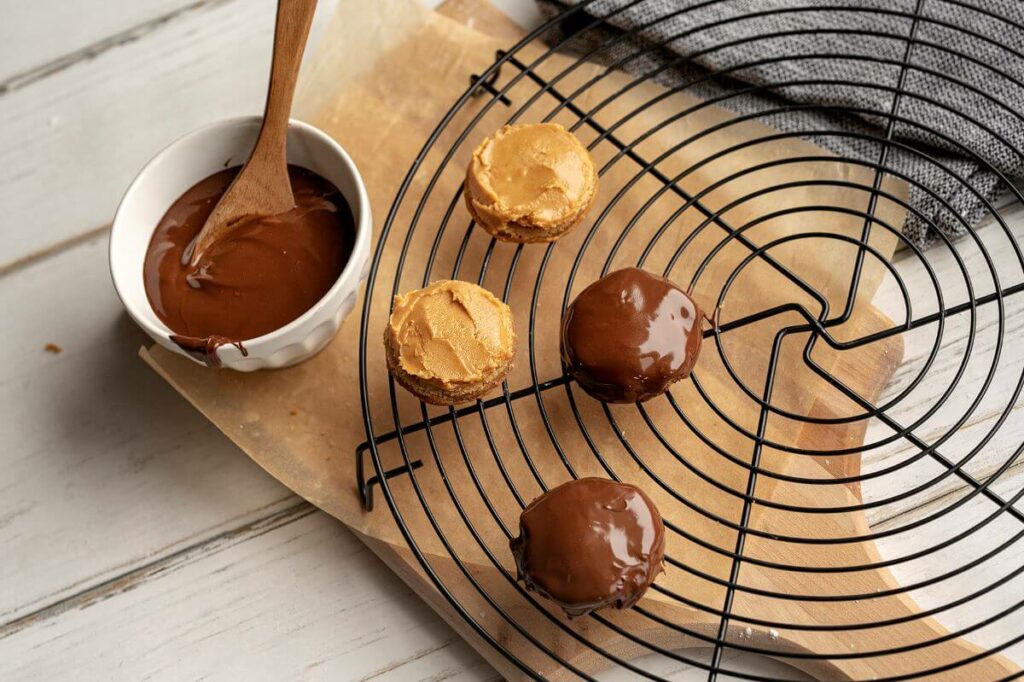 Pour 1 tbsp. of melted chocolate on each cookie, letting it coat the top and sides. Shake the cookies to evenly distribute the chocolate.
Once all the cookies are covered in chocolate, use a metal spatula to transfer them to a parchment-lined baking sheet or container. Place them in the refrigerator until the chocolate is completely set. About 15 minutes. Be careful when placing the cookies on the tray. You don't want any of them to touch as they will stick together.
Store in an airtight container in the refrigerator for up to 5 days. These cookies can be enjoyed chilled or at room temperature. 
Peanut Butter Patties can be served as an after-meal dessert or afternoon snack. They are a big hit at neighborhood get togethers, potlucks, bake sales, or your household cookie jar.